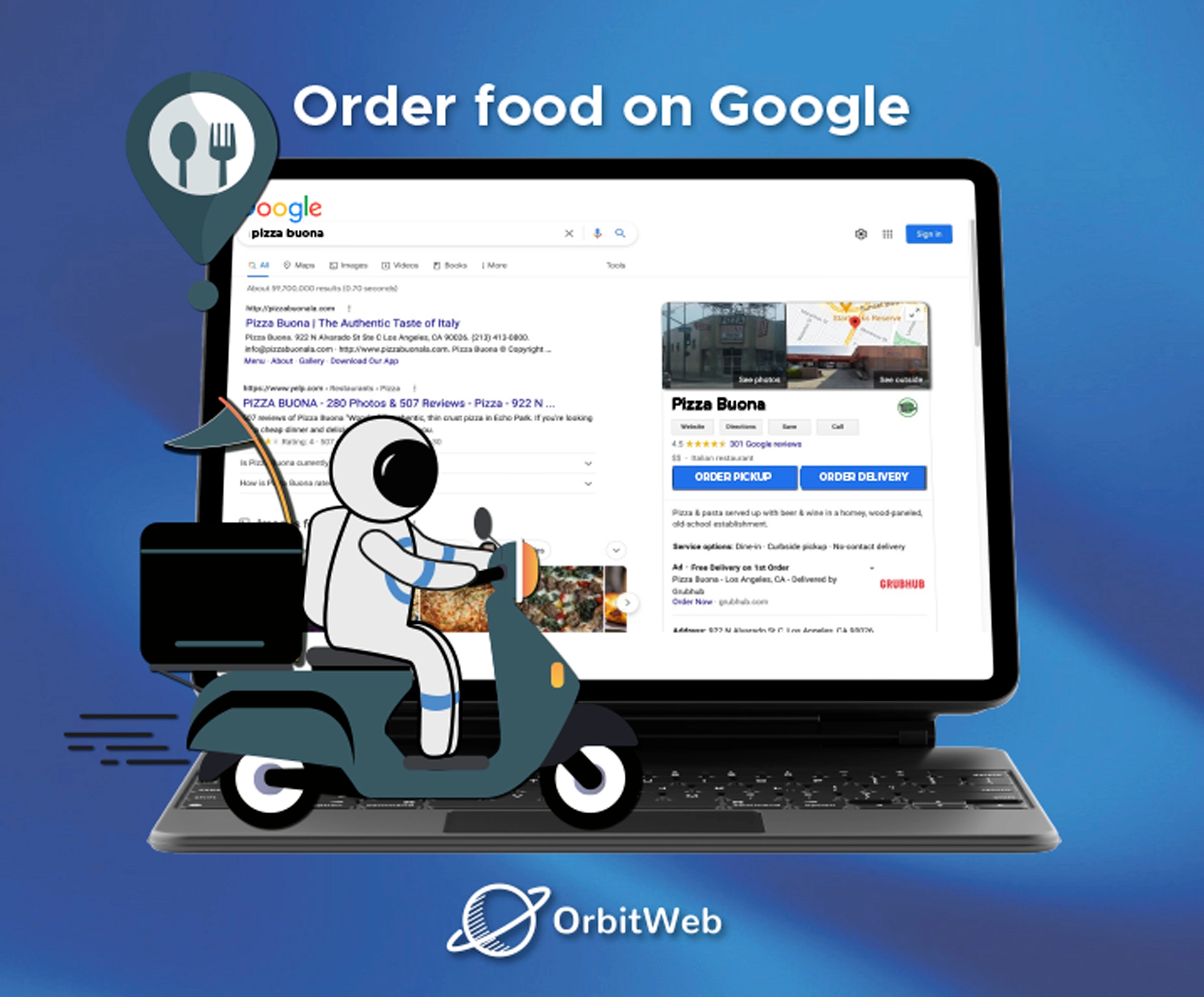 Ordering restaurant takeout has become the norm. Not only is it safer during these times, but it helps support local businesses.
Order with Google has now made the process faster, too!
You can order food on Google if you have a Google Account!
Let's dive in on how it works!
At the start of the pandemic, Google partnered with KFC Canada to pilot Google's food order feature across Google Search, Google Maps, and Google Assistant. Canadians who searched for their local KFC on Google Search or Google Maps saw a new "order online" button and once they clicked it they could browse their local KFC menu, place an order, for delivery or pick up and then pay securely.
After the successful pilot, we can now place food orders with other restaurants through Google!
Contents to see:
How to Set up Your Restaurant So Customers Can Order Food On Google
6 Benefits of Order Food on Google for Restaurants
How to Order Food on Google – How it works for users
People who search their local favourite eating spot will see an "Order Online" button and once they click it, they can browse the menu, place an order for delivery or pickup and then pay securely all in one place without leaving the Google platform.
Menus are displayed, here you'll also see the minimum order amount and delivery feeds. You will also have options to enter promo and coupon codes or charge the meal to your credit card or Google Pay.
You can order food on Google if you have a Google Account. If you don't have an account yet, learn how to create a Google Account.
Some features aren't available in all languages or countries.
Step 1: Find a restaurant
To find a restaurant to order from, use Google Search or Maps.
If you're in the United States, you can find a list of all the restaurants you can order food from at orderfood.google.com .
If you're outside of the United States, learn how to find restaurants near you .
Step 2: Place your order
Learn how to place your food order or how to ask your Google Assistant to order food.
Step 3: Pay for your order
After you've picked a restaurant and started your order, learn how to pay for your order.
Placing Orders by Voice
Mobile users can also use Google Assistant to place orders by voice (only for US users)
You can order food from restaurants through the Google Assistant on your phone.
Your choice of restaurants depends on their delivery options.
On your phone, open the Google Assistant by saying "Ok, Google" or touch and hold the home button.
Say or enter the name of a restaurant.
Tap Order Online.
Choose the partner you want to use.
Follow the steps on how to place your food order.
Let Google Assistant Complete Your Order
If you'd like to take your online food-ordering ease a step further, Google has partnered with select restaurant chains to create a system, powered by Duplex on the web, where Google Assistant actually completes your order for you.
To try it out, find a participating restaurant from Google's Android app and tap Order Online. Create your order as usual, then go to checkout. Assistant takes over from here, filling in your contact info and grabbing payment details saved in Google Pay, completing your order automatically.
Google food ordering implementation is making it convenient and easier for customers to access their favourite restaurants and businesses to be able to serve them.
How to Set up Your Restaurant So Customers Can Order Food On Google
Accepting online orders has never been easier. Customers who are searching Google for your restaurant by name, type of food, or keywords like "best sushi near me" can now order takeout directly through Order Food On Google.
In order to accept online food orders on your Business Profile on Google Search and Maps via Order Food On Google you will need to add a "Place an Order" link to your business profile. This link makes it easier for customers to know how to order from your business or restaurant via your profile on Google Maps or Search.
(If you haven't sent up your Google business profile, check out this post on Google Business Profile )
Most recently, Google set up the Food Ordering Tab in the Google Business Profile manager.
According to Google, if you want to make the most out of the 'Order online' action, it's going to take a few more extra steps. Only restaurants that have partnerships with online ordering services will be able to see this feature. If it appears on your Google Business Profile manager, you can click 'Learn More' and you'll be directed to a support page that gives you more information on how to set up the 'Order Online' button. You can then choose preferred pickup or delivery providers.
If this isn't available to you yet, it means that you still need to seek a partnership with a delivery provider.
Why is ordering Food on Google so awesome? It makes it easier for your customers to complete their order. They do not necessarily have to go to your website or use another app or delivery service to order.
If you don't see this as beneficial to your business, don't worry: you can choose not to use this feature. This is actually ideal for restaurants that do not have their own online ordering system.
On the other hand, if you want to use the 'Place an Order' action, you can add your own custom menu link to help your customers place an order right from your Google Business Profile.
6 Benefits of Order Food on Google for Restaurants
Order Food on Google helps restaurant owners take their business to the next level. By putting your restaurant menus and order forms on the internet, people will be able to find them more easily. This will make it easier for customers to order from you.
Visibility
Order Food on Google increases' exposure to potential customers who might not be aware of the restaurant. When someone is looking for a meal, your restaurant will show up as an option, and they can place an order without ever having to leave their current location.
Increased Efficiency
Order with Google makes getting food delivered via curbside pick up or in-store pick up frictionless. It streamlines the ordering process for customers and restaurant staff by organizing all the information in one place.
Customers can easily browse menus and make their selections without relying on the wait staff to take orders, while restaurants can easily track orders and manage their inventory.
Boost Profits
Increased efficiency will lead to more satisfied customers, repeated business and it can also help you upsell.
For example, if a customer is ordering a sandwich, you can suggest they add a side or drink to their order with just a few clicks.
Seamless Integration
Order with Google integrates seamlessly with your existing restaurant POS systems, meaning you don't have to invest in new hardware or off premise software. Saving you both time and money in the long run.
Improved Customer Service
With Order with Google, customers can view your menu online or via a mobile app before they even step foot in your restaurant. They can know exactly what they want by the time they reach the counter, meaning they're less likely to change their mind (and thus delay other customers).
Enhanced Insights
Order with Google provides valuable insights and data about customers' ordering habits to help the restaurant better understand its audience. This information can help the restaurant make more informed decisions about menu offerings and eCommerce marketing strategies.
Order with Google allows you to send targeted promotions and coupons to customers who have ordered from you in the past. This can help you increase repeat business and attract new customers. Overall, Google's food ordering platform is valuable for restaurants looking to improve their operations and reach a wider audience.
OrbitWeb Your Digital Partner
Want to improve the visibility of your business? We are a data-driven Google Partner Agency that has helped clients in various industries achieve visibility and high conversion rates.
Contact us today to learn how we can help you increase visibility, efficiency, and ROI for your business!