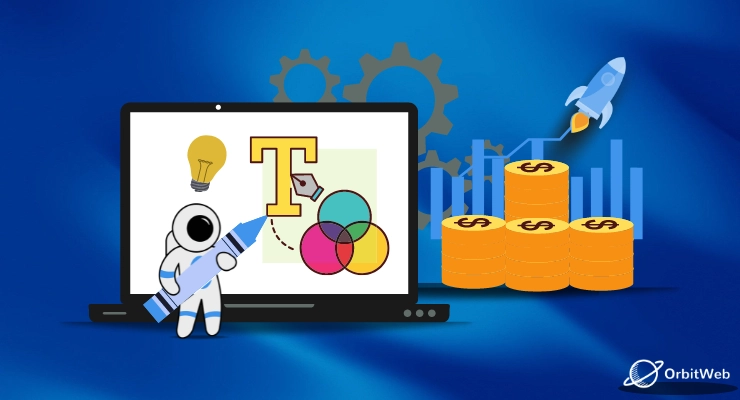 First impressions matter. This is the reality in many situations, including your website. Did you know it takes no more than 50 milliseconds for users to form an opinion on your website? When users visit your site, you want to make a positive first impression and lure them to take interest in your products or services. But how can you excite users if your website lacks the looks and performance department?
Giving your website a facelift!
This post will tell you how to increase sales through web design and how giving your website a revamp can turn your website into one that generates sales and brings in revenue for your business.
How Can Web Design Improve Sales?
Let's talk about trust. People want to buy products and services from a trusted source. A Stanford Persuasive Technology Lab research study found that 75 % of opinions on websites come from how your website is designed.
People's credibility on your site relies on how it looks. If your website is outdated, you are no longer trustworthy.
You don't want to miss out on potential customers or sales due to your website. A sleek and modern interface will make users feel at ease browsing or shopping on your site.
In order to see how web design can improve sales, you can start by looking at how your website's design affects the user's experience. An outdated website can be difficult to use; visitors will just leave and visit a competitor.
A great website delivers a positive experience with great design. And although looks are important, how your website performs is also important.
Check how your website performs with OrbitWeb's lab environment.
The ultimate goal is to grab users' attention by having an aesthetically pleasing design on your site without making them forget why they are at your site.
Here are 6 Tips To Improve Your Web Design to Increase Sales
So, we have established that the look and feel of your website are the primary drivers for first impressions. Here are some tips on how to improve your web design to increase sales.
1. Implement a Responsive Design
A functional site is important to drive those sales. More than 50% of the world's internet traffic comes from mobile devices. If you want to grow your business, you need a responsive website design. Responsive design ensures that regardless of the device someone uses, your site adapts to it. This means providing the same experience throughout all devices.
2. Create CTAs (Calls to Action) that stand out
Make sure your CTA is attention-grabbing because when your visitors like the information on your site and want to continue to the next step, they will look for that CTA to guide them. A lackluster CTA can cause you to miss out on a sale. Create CTAs that pop and are descriptive.
A great CTA tells the user exactly what happens if they click on the CTA, "Buy," "Learn More," "Sign Up," etc.
Get more people to click on your CTA by making them jump out and easy to find.
3. Use top-notch visuals
To increase sales through web design, high-grade visuals must be implemented into your design. Great visuals are important to keep your audience engaged with your brand and web page. Blocks of text can be overwhelming, and you risk having a customer turn away from your website.
For eCommerce, your product images must be high quality and promote trust. Your web content should include photos, videos, or graphics. Your target audience or market should be captivated by what you offer.
Use original visuals rather than stock photos or graphics, this prevents the risk of having your audience see them on other sites.
4. Improve Sales Through Navigation
An important element of web design is your navigation. User experience is important, and it goes hand in hand with navigation. You want a website with organized navigation that is a breeze to use.
Well-organized navigation allows users to find your products or services faster and more easily.
An example of a navigation organization is TESLA. The navigation allows customers to find the model they need. Regarding your website navigation, ensuring your users can find relevant information is important. You can use broad categories and organize related subcategories under them.
5. Use White Space
Did you know that utilizing white space in your web design can increase sales? Bet not. But first, let's discuss what white space is.
Many companies try to fill out every space of the website with visuals or information, which causes the site to look cluttered, distracting, and overwhelming to your users.
White space is a pillar of good design. It allows for a clean site and keeps your users focused on relevant information. Look no further than the apple store to see their effective use of white space.
Implementing white space keeps your audience focused on the information you want them to interact with. Longer engagement time can lead to an increase in sales for your business.
6. Speed Up Your Website
You will most likely miss sales if your site doesn't load quickly. A slow-loading site can cause 2.6 billion in lost revenue annually. What does this statistic mean? Simple, fast-loading websites will win over slow-loading ones. Don't let competitors win over your customers because you have a slow website. Just increasing your website by one second can increase your conversion rate by 7%. Which means more money for your business.
Do you want to see how fast your website is? Check out your speed in OrbitWeb's lab environment.
If your site isn't up to standard, you can try to improve your site using the suggestions from Google. You can also invest in a digital marketing agency like OrbitWeb if you don't know where to start or if you would like professionals to help you on your website while you focus on your business.
OrbitWeb Will Increase Your Sales through Web Design
The internet of the future is fast, and so are we. Investing in web design can make a big difference in your conversions. Whether your niche is direct-to-consumer (DTC) or Business to Business (B2B), We are ready to transform and leverage the benefits of a better version of your website. By creating fast versions of your web pages and fine-tuning your search engine strategy, we are able to drive incredible Google Search Results. All our web designs are fast, secure, and with the purpose of engaging and converting.
We implement a road map with full transparency and best web design practices. Our sites come SEO optimized and PPC marketing ready to work in partnership with your marketing strategy.
Here are some more statistics on the importance of web design for conversion
70% of consumers say that page speed affects their willingness to buy from an online retailer.
42% of people would leave a website because of poor functionality.
44% of shoppers tell their friends about negative online experiences.
88% of users are less likely to return to a website after a bad experience point (XP).
The visit-to-order conversion rate for well-designed websites can be as much as 200% higher than for poorly designed websites.
Sites with superior user experience can have 400% higher conversion rates.
Why Partner with OrbitWeb for your Web Design?
While you can build a responsive website design in-house, partnering up with OrbitWeb allows access to a team of developers, saving you the time of hiring your own team. Our web design service also allows us to meet deadlines and have your site ready in no time.