Let's talk about the Google Analytics 4 Property
As you are aware the industry and regulatory landscape is changing and user expectations are rising.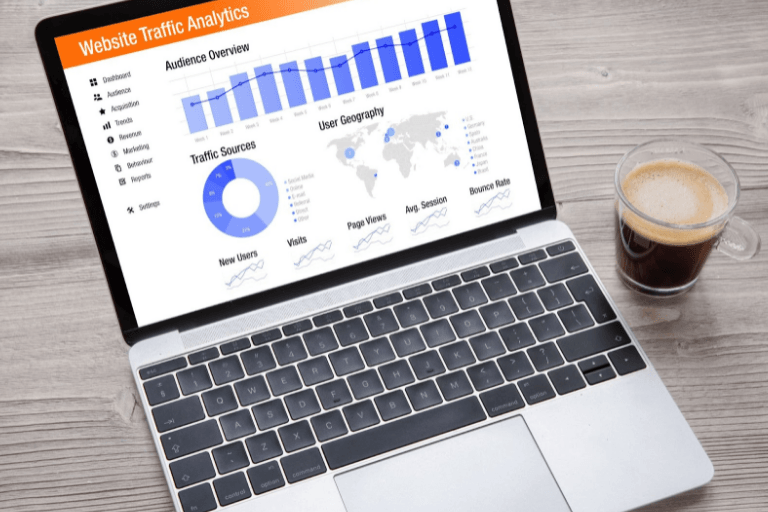 Quick Overview
It's no secret there is immense change and end-user privacy is top of mind.
Regulatory Changes such as GDPR, and CCPA have impacted how data can be collected and used.
Browser updates and other platforms are making changes to core technology such as cookies. Heightened controls are impacting traditional data collection (e.g. third-party cookies and device identifiers)
User Privacy Controls
End users are also demanding more control and transparency over data collected and used for ads personalization.
Meanwhile, the amount of data being generated from countless business touchpoints that platforms customers interact with continues to increase exponentially, so businesses are looking at analytics to navigate all this.
According to Forbes "50% of businesses say big data and analytics have fundamentally changed business practices in their sales and marketing departments."
Google is Investing as Well
Introducing the next generation of Google Analytics!
With Google Analytics the mission is to build a unified offering for user-centric analytics across app and web for all clients.
The GA team has built on what you know today as the app + web property beta. By leveraging this new infrastructure, Google has the ability to power the next generation of Google Analytics.
The App + Web properties have graduated from beta and have been renamed to Google Analytics 4 Properties. A durable and privacy-first, x-channel measurement platform, built to scale with your business and enable prediction and action with Google and beyond.
GA4 will become the default when new properties are created in Google Analytics.
Let's look at three areas of the Google Analytics 4 Property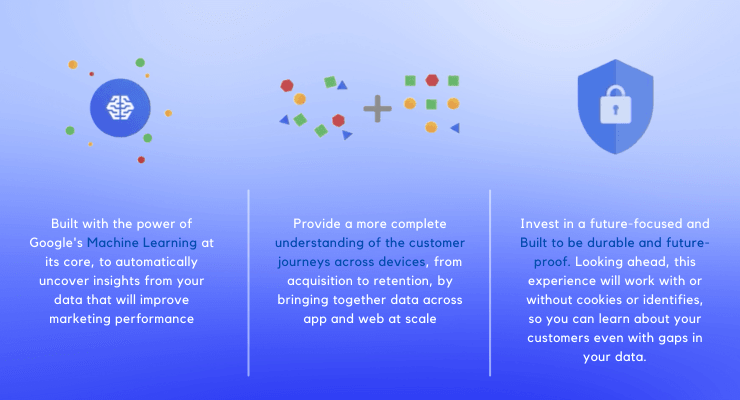 6 Features Pay Attention in the New Google Analytics 4 Property:
Event Editing and Synthesis
Enabling editing, correction, and fine-tuning of events logged in GA4 Properties in the UI, without needing to adjust the code of the implementation.
Data Imports
Measurement Protocol -Now for both App, and web events, enables clients to send data to their GA4 property reflective of events occurring outside of their website for app.
Data – Enables marketers to widen the data GA4 collects by importing additional data and signals.
Cross-Doman Measurement
Enabling measurement of a user's journey across domains right within the GA4 UI for ease of implementation.
Life Cycle Reporting
New Reporting Curriculum: A reimagined way to surface reports to Analytics users
eCommerce Reporting: Templated reports to better understand your eCommerce funnels
Migration Tools
Get Started Wizard: Allows users to get started with a new GA4 property in just a few clicks.
Set up Assistant: The one-stop shop for GA4 setup resources and tools.
New Onboarding Flow
Because of all these advancements, new properties created in Google Analytics, will be Google Analytics 4 properties.
What happens next?
As you can see there are many new and exciting features in Google Analytics 4.
All standard Universal Analytics properties will stop processing new hits on July 1, 2023, and 360 Universal Analytics properties will stop processing new hits on October 1, 2023. After that, you'll be able to access your previously processed data in Universal Analytics for at least six months.
Make the move over to Google Analytics 4 as soon as possible to build the necessary historical data before Universal Analytics stops processing new hits. For guidance, you can contact us at OrbitWeb.
OrbitWeb prides itself on being a data-driven Google Partner that is always on top of the latest advancements in Google properties.
Want to know how to leverage the power of Google to boost your business? Contact us today to find out!